I absolutely LOVE going to music festivals. This is my 4th year in a row attending Coachella, and I usually go to a couple more every year. This year I'm planning on going to FYF Fest also. Maybe also Hard Summer and CRSSD!
As you may have seen in our first "about us" post, I have an Excel spreadsheet and a checklist for items to take with me to Coachella and other festivals.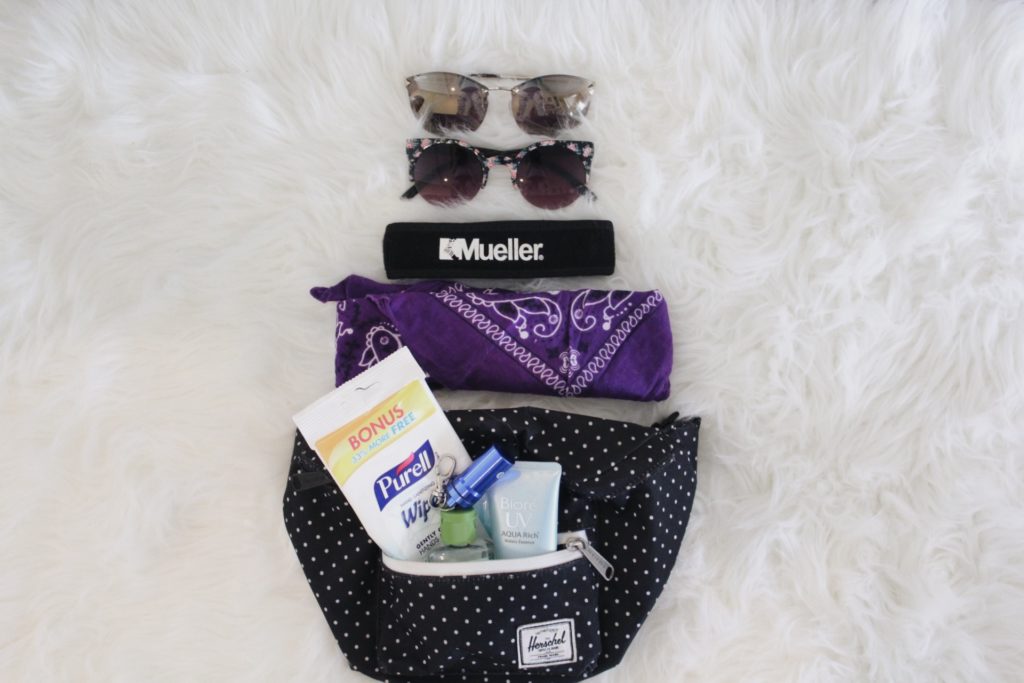 Here's what I normally pack:
– Packet of tissue, also to use as toilet paper if needed in porta-potties.
– Wet wipes.
– Hand sanitizer.
– Sunscreen. I personally love this one because it protects from UVA and UVB rays and it's super lightweight: Biore Sarasara Aqua Rich Watery Essence SPF50+/PA++++ 50g Sunscreen

– SEALED lip balm, 1 per day. Sometimes they're not strict on the "sealed" policy, but can never be too careful or prepared!
– SEALED packets of gum, 1 per day.
– Full charged external phone charger with cord. So necessary if you like to Instagram, Snapchat, text, and take photos as much as I do! This is the one we use: Anker PowerCore 10000, One of the Smallest and Lightest 10000mAh External Batteries, Ultra-Compact, High-speed Charging Technology Power Bank for iPhone, Samsung Galaxy and More

– Body wipes like SweetSpot Labs, especially if camping! SweetSpot Labs Vanilla Blossom on the Go Wipettes, 30 Count

– Bandana to wrap around your face. Dust is constantly kicked up inside the tents. The first year I got pneumonia and had a 1-month long cough because of all the dust. I wear my bandana as much as I can, even just walking around the grounds. Last year I put a medical mask underneath my bandana, and it was even better! Also bandanas help with the smell inside porta-potties and help you from losing your voice since you won't scream as much, well at least for me it does.
– Sunglasses!
– A flannel or sweater. It can get pretty cold at night especially the long walk back to your car. Also if you have eczema or sensitive skin, it also works as a blanket to sit on instead of the grass or dirt.
– Earplugs. So important! If you have ringing in your ears at end of night, you didn't wear them enough! These earplugs are great because they protect your ears but don't muffle the sound completely like foam earplugs do. If you have normal sized ears, these are great: Etymotic Research ETY Plugs High Fidelity Earplugs; Standard Fit, Blue Tip, Polybag
 If you have smaller ears like us: DownBeats Reusable High Fidelity Hearing Protection: Ear Plugs for Concerts, Music, and Musicians (Clear Ear Plugs, Black Case)
 or Alpine Hearing Protection MusicSafe Classic Earplugs for Musicians
I pack this all in a fanny pack to keep my hands free! I love the Herschel's ones because they're cute and pretty large. Herschel Supply Co. Seventeen, Black, One Size
Also for me: I pack this knee strap because I have patellar tendonitis, so walking around all day usually makes my knee hurt. This helps a ton. Mueller Jumpers Knee Strap BLACK
I also prefer to wear Nikes or other comfortable sneakers instead of boots or sandals even if they're not as cute because my knee can't handle running around for over 12 hours. Also if you go into a crowded tent like Sahara, it's super easy to get stepped on by accident, so I would rather not deal with bleeding toes.
Additional tips:
1. Take an Emergen-C before starting drinking and before Coachella.
2. Eat!! It's so important to eat! You're spending so many hours outside in the heat, walking, and dancing so much. You burn a ridiculous amount of calories. It's so easy to forget to eat when you're having fun and trying to catch different acts (or if you're taking a *ahem* "supplement" that has a side effect of suppressing your appetite).
3. Post-Coachella: Another Emergen-c and EAT even if it's not healthy or you may not be hungry! A Hot Pocket / Lean Pocket or Cup Noodles is super easy to heat up.
4. Additionally, ALWAYS REMEMBER TO HYDRATE! It's so so so hot in the desert, plus you're sweating so much. And if you're drinking, it dehydrates you even more! CamelBaks are great to have for festivals for this reason! Plus there is always a free water refill station.
5. And finally, HAVE FUN! Coachella is so fun. Even when the lineup isn't your favorite, it's such a great time in the desert with your friends! I absolutely look forward to it every year.
Let us know what you pack with you! And let us know if you're attending this year! I'll be there weekend 1, and Joanna will be there both weekends!
-Grace